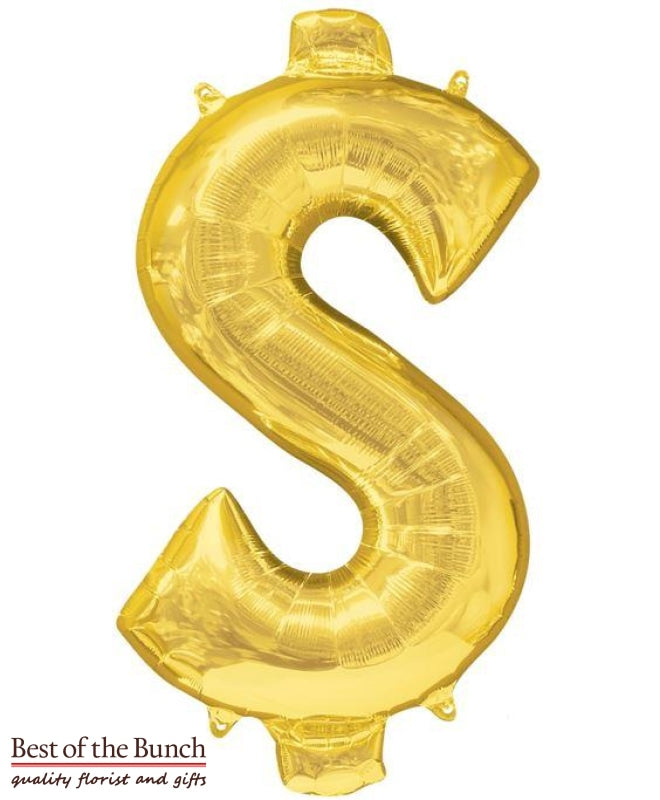 Giant XXL Extra Large Symbol $ (dollar or money) Gold Foil Helium Balloon 86cm (34")
---
Giant XXL Extra Large Symbol $ (dollar or money) Silver Coloured Foil Helium Balloon 86cm (34"). Add an symbol $ (dollar or money) giant helium balloon to show a value or sale price or to make a statement! Order your extra large symbol $ (dollar or money) silver helium balloon gift today with Wellington same day delivery. $$$ Show me the money!
These huge jumbo sized number balloons are 86cm tall (34") in metallic silver colour and are filled with high quality helium gas. It includes balloon weights with ribbon to keep it floating in one place and is delivered with a gift card containing your own personal message.
Have these large silver coloured number foil helium balloons delivered on its own or make it even better by adding it to a helium balloon bouquet by clicking here. Or simply add additional latex or foil balloons to your order by clicking here.
Add multiple products to your order by clicking on the "add to cart" button before online checkout. 
Add  flowers, chocolates, sparkling wine, a soft toy or make it part of a romantic gift basket. Please contact us if you have any special requests.
---
Share this Product